Does your company website need a makeover? Are you fearful that visitors to your website aren't staying once they get there? Does your website not have that corporate appeal? Most website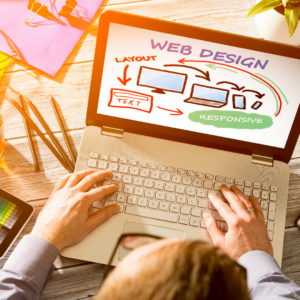 design companies charge thousands of dollars to redesign a website, typically because that's all they do and it's their livelihood, so we can't blame them for that.
At Midnight Marketing Group, we're not about making money on your website. We're only interested in helping you redesign it, in preparation for beginning one of our outsourced sales and marketing programs. The primary goal of our service offerings is to help you increase sales. Because our programs will ultimately be increasing traffic to your website, we want to help you give it a modern feel that's easy to navigate. (Keep in mind that this service is not at all required, it is simply our way of assisting those clients who feel their website is in need of some updating)
That's why our website redesign services are so reasonable, because the margins are less important to us. Our website redesign services exist only to make your website look more professional and up-to-date in preparation for our sales and marketing activities to begin. Review the packages below and talk to us to find out which one is best based on your company's needs.
---
Website Redesign: Package One
This website redesign package includes up to 10 pages of an existing site. Once your redesigned site is completed, we can also perform future updates down the road (only if you want us to) for a very minimal charge, or you can of course have someone else do it for you. It's always your choice.
Website Redesign: Package One  ($1,495) (One-Time Purchase)

---
Website Redesign: Package Two
This website redesign package also includes up to 10 pages of an existing site. However, with this package we will use Squarespace, a very well known online web design program that offers the same professional results only with less coding required. There is an annual fee for Squarespace (typically $150-$250 per year), but this service then allows you to make future changes/updates on your own without requiring a professional to do it for you. We will of course teach you (at no additional cost), how to use Squarespace once the site redesign is completed.
Website Redesign: Package Two ($1,395) (One-Time Purchase)

Conducting business with integrity, that's what comes to mind when I think of Midnight Marketing Group. It was a pleasure to work with Midnight Marketing and in particular to have them interact with our sales staff as coaches, and also to work with us on the development of marketing and lead generation programs to generate new revenue for the company.
I highly recommend Midnight Marketing Group. I've known Mark for more than 16 years. He is a highly respected and ethical business manager. As a member of a senior team Mark contributes on many levels, with expertise in the area of sales team development, partnership programs, business planning and developing GTM strategies. As a leader Mark is extremely approachable and always takes on responsibility with a sense of passion and diligence. As a trainer, Mark has the technical knowledge and business acumen to help any audience develop a solid foundation for learning.
I have had the pleasure of working with Midnight Marketing Group for several years on many different projects in the area of management, sales, marketing and lead generation. Their enthusiasm, professionalism, passion and diligence as an outsourced sales & marketing organization challenges that of any highly skilled, senior level individuals I have ever employed.
Midnight Marketing Group exhibits the highest level of integrity, combined with a genuine ability to create business solutions that generate incremental revenue with increased profitability. Midnight Marketing successfully applied their industry knowledge and business development skills to create a two-tier distribution program between multi-billion dollar corporation Tech Data and its partners.