FIRST, LET'S LOOK AT SOME STATISTICS:
For every $1 spent, $44.25 is the average return on email marketing investments. (Experian)
40% of B2B marketers rate the leads generated by email marketing as "high quality". (Software Advice Survey)
People who buy products marketed through email spend 138% more than people that do not receive email offers. (The Small and Mid-Size Business Email Marketing Survey)
56% of businesses say they plan to increase their use of email marketing. (The Small and Mid-Size Business Email Marketing Survey)
---
SECOND, CONSIDER THE ADDITIONAL INFORMATION BELOW:
Acquisition: Customers acquired with email marketing are loyal and responsive.

Retention: Email is the best channel for speaking directly to customers because it can be personal and economical. Use it to inform or promote your products and services.

Sales: Email customers want to know about your company and products. Include informational messages along with promotions to encourage sales.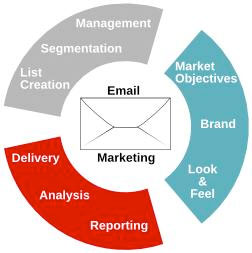 Service: Emails allow your company to economically send personal messages to your audience.

Integration: Encouraging people to share information about your company across channels is easy with email. Make the process simple and your marketing reach will grow exponentially.
Email Marketing has a Wide Reach: Email marketing can reach a wide audience in a short period of time and allows recipients to immediately act on messages.

Email Marketing Excels in Return-on-Investment: Email marketing is much more cost-effective than traditional direct mail marketing, banner ads or telemarketing where additional fees are incurred. Email marketing allows links to be embedded in messages, which drives traffic to your website.

Email Marketing Improves Brand Awareness and Customer Relations: Regularly delivered email messages with proper subject lines and logos reinforce company and product awareness. Email creates an interactive connection and nurtures quality customer relations.

Email Marketing is Measurable: Email marketing and sales campaigns can be measured in detail through opens, click-through and conversion rates to evaluate the success of campaigns. The data allows marketers to adjust strategies to improve future results.
Getting Started is Easy: Especially if you let us do it for you. Check out everything we include in our affordable Email Marketing Package.
We do it all, so you can continue focusing on your business!